"The whole is greater than the sum of its parts."  – Aristotle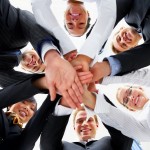 Goal Achievers International is an organization that enables and empowers business owners and professionals to achieve their goals.
It  members consist of a synergy of highly committed individuals who meet regularly in the spirit of unity, trust, and definiteness of purpose to share with one another their goals in the quest to empower one another achieve their goals.
This brain trust is played out through a creative thinking process supported by feedback, encouragement, integrity, accountability, the pooling of various resources and supportive action.
Goal Achievers is a powerful and proven methodology that was originally uncovered  from  extensive research of history's most accomplished individuals. It was formally introduced in the 1900's by Napoleon Hill in his book Think and Grow Rich who described this process as "The coordination of knowledge and effort of two or more people, who work toward a definite purpose, in the spirit of harmony." The wonderfully, intriguing part of this process is the application of a powerful phenomena that Napoleon Hill observed, whereby as an, "invisible intangible force, which may be likened to a third mind."
In essence, Goal Achievers is based on the premise that more can be accomplished in less time by working together.